Sanitizing & Disinfecting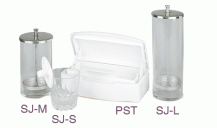 Plastic Sterilizer Tray ~

The Plastic Sterilizer Tray features a self draining basket that rise when the lid is opened. When the lid is closed the tray lowers to allow complete submersion of Implements.
Sterilizer Jar ~


An essential tool of infection control. Comes with a stainless steel lid and implement holder.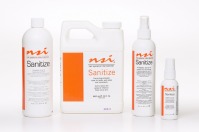 Sani-Pure (formerly Sanitize) ~

Sani-Pure is a fast acting antiseptic spray for hands, work areas, and files. Use Sani-Pure to reduce the spread of infection.

Cavicide ~

Cavicide is a ready to use disinfectant for salon instruments and surfaces. It requires no special disposal or protective handling. Cavicide meets or exceeds stringent State Board and EPA requirements in all 50 States. EPA Reg. #46781-6-66279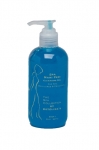 Sani Mani Antibacterial Gel ~

This gel is a delightful way to cleanse and sanitize your hands and the hands of others. Its special antibacterial formula kills germs on contact.
Paragraph.

[an error occurred while processing this directive]