INM Integrity Gel

Integrity Clear Glaze ~
Clear Glaze is a light weight product designed to give all your enhancements a brilliant high gloss shine. It eliminates buffing and will save you time on all your services. You use this product by first filing your nail enhancements with a 150 grit file, omit the buffing. Remove all the dust from the nails and polish on Clear Glaze. Clear Glaze will make any file marks disappear. Saves time, gives you a permanent high gloss shine, and can be charged as an add-on service. Must be filed off to remove.


Integrity French White Paint ~
French White Paint is a medium weight product designed to be used for aesthetic purposes, you can not sculpt with it. It is a bright white that should be applied between layers of clear gel for a French manicure look. Perfect for pedicures. You use this product by applying it like a polish, lay a base of clear gel and cure, apply clear gel on top. Dries without a tacky layer. Can be used with acrylic.

Integrity Clear Gel ~
Clear gel is a multi-purpose one-step gel. It is thinner than a builder gel and thicker than a base gel. It is self-leveling with the perfect viscosity. Clear gel is used to create a base layer by applying a thin polish like application. It is also used as a builder gel by simply picking up a larger bead. It will not run into the cuticles. Lastly it can be used as a top gel with a very brilliant shine. For maximum adhesion use clear gel as a base for all applications.

Integrity Pink Gel ~
Pink gel is a multi-purpose one step gel. It is a clear base with color added. It can be used as a base or a builder. Use the clear based pink tinted sculpting gel for aesthetic purposes, if the client wants a pinker, or needs a more uniform nail bed color.
Integrity White Gel ~
White gel is a self-leveling sculpting gel that has enough stability to hold a crisp, sharp smile line. It has a medium viscosity, giving you the time and control you need to perfect your skill. This unique formula allows you to sculpt the perfect French nail.

Integrity Thick White Gel ~
Thick White gel has a thick viscosity with a light textured feel. The thick viscosity is perfect for sculpting. This gel does not self-level, it will hold its shape while you sculpt all your nails. Thick White gel is considered a European style gel. Create crisp smile lines.

Integrity Gel Cleanser ~
Integrity Gel Cleanser comes in a convenient spray pump application. It was formulated with moisturizing oils to protect the cuticles and skin from becoming dry due to the alcohol content that are in most gel cleansers. Do not use Integrity Gel Cleanser to cleanse the natural nail as it has oils in it and will cause lifting.


Integrity Clear Forms ~
Integrity's innovative heart shaped design ensures maximum stability while the high quality adhesive keeps the form exactly where you place it. The transparency of the Mylar guarantees perfect curing of even the strongest pigmented gels. Designed with guide lines to customize the desired length and shape of the nail enhancement.


Integrity Retractable Pro Gel Brush ~
The Retractable Pro Gel Brush with cover helps keep the brush free of dust, while eliminating any risk of product hardening on the brush due to exposure to UV light. Ideal for a smooth gel application. Excellent for application of gel near the cuticle area. Synthetic bristles are easily cleaned with Integrity Gel Cleanser.

Prep Step ~

Prep Step is a pH-balancing agent and dehydrator for the nail plate. Prep Step should be used prior to primer, resins, or polish. Prep Step gives the nail a clean start to ensure the best adhesion possible when applying nail enhancements.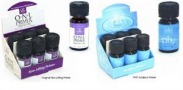 O-N-L Primer ~

This chemically balanced formulation was developed for use by professionals to create the strongest bond possible between the natural nail and acrylic or gel enhancement. With a unique raspberry fragrance and blue tint, O-N-L primer works to extract oils from the natural nail that can promote lifting and prepares the nail for the application of acrylic or gel. O-N-L Primer can be used with any acrylic or gel system.

pH7 Primer ~


This chemical formulation was created to give the strongest bond between the natural nail and acrylic or gel enhancement without the use of acid. pH7 acts like double sided sticky tape, giving it superior adhesion when compared to other acid free primers. It will not burn the skin if it comes in contact with it.

[an error occurred while processing this directive]